Early Days
***Warning: "adult content" in this story!***

 1. I am not sure when the following incident occurred. It was obviously after I had learned to ride a bike.[more] The school holiday when I learned to ride a bike, summer 1962, seems too early. For when I first became friendly with Peter Gooding[more]—and that was after the summer holiday, 1962[more]—I was not a very experienced bike-rider. And the summer holiday in 1963 seems too late: that was when David Rotheram and I went cycling to Garstang, and camped there.[more] Nevertheless, I have the impression that it was after a holiday when I next went to school, after the incident occurred; so I suggest that it may have happened during the Easter holidays in mid-to-late April, 1963.

Perhaps the Easter Holiday 1963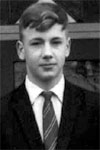 2. David Rotheram ("Gob") and I decided to go on a bike ride[1] to Preston, some 20 miles from where we lived. I can't remember the route, but I imagine that we went along the A585 through Kirkham, joining the main A583(T) Blackpool-to-Preston trunk road immediately beyond Kirkham. The A585 was a two-lane road; i.e., it had one single carriageway, going each way. For a vehicle to overtake one in front, it had to go into the lane carrying oncoming traffic (though not carrying any at the time of overtaking, of course!). There were some main roads that had three lanes, the outer ones to carry traffic this way and that way, and a central lane for overtaking (again with the proviso that there was no vehicle coming the other way). The A583(T) was relatively unusual in the UK at that time, in that it had four lanes, two outer ones primarily for travelling in, and two for overtaking. I guess that's why it was called a "trunk" road, and had a "T" in its road-number.
[1] At least, I think it was a

bike ride.

I have a note from around January 1978, which says, "David Rotheram: visit to Preston (bikes? bus?)".
 3. By whatever route, we got to Preston. I imagine also that I would have taken Gob to see where I used to live in Fairfield Drive.[more] Whether or not I did, we ended up at a park by the River Ribble. We had probably taken sandwiches with us, and ate them there.

Click on image to enlarge.
(1950's map taken from Lancashire County Council Maps and Related Information Online.)
The park is marked in green. Perhaps during the following school term, or maybe even later than that, in our Art lessons, we had to do a watercolour landscape from memory; and I painted a wide-ish river with grass in the foreground, and patchwork fields beyond the river. To the right was a railway viaduct, and to the left a bridge carrying a lane through an avenue of trees. This approximates to the view south from the park on this map.
 4. It was there that a man, perhaps in his twenties, said hello to us. This didn't seem overly strange; it was unusual, though not unknown, for strangers to greet each other in this way, though perhaps ordinarily one might only expect such behaviour from older people.

 5. I have the impression of there being a bandstand, where again we encountered the man, and he said something, friendly-seeming but inconsequential. Perhaps after that he turned away, then turned back to face us; at any rate, when I looked at him again,

he had his dick in his hand!

He was rubbing it slowly, and he said, "I'll give you five bob…"[2] The tone was one that implied an

"if":

"I'll give you five bob

if…"

But exactly what was expected in return for five bob was not specified.
[2]

Five bob:

Five shillings, 25p in decimal money, worth £3 or £4 in 2010.
 6. I found this turn of events more surprising than alarming. Put it this way: I had an older brother, so had seen an erect penis before, his and mine. (In fact, I thought this man's organ looked a bit small and white.) Caution outweighed curiosity, however, and I calmly declined his offer. But when I looked at Rotheram, I saw that he had gone beetroot-red with embarrassment. Afterwards he was speechless with shock, and was clearly very distressed by the incident.



Perhaps Monday 29th April 1963


 7. The Summer Term in 1963 at Fleetwood Grammar School began on Monday 29th April.[3] It was the custom for all the boys to assemble in the Boys' Cloakroom at the start of each day; and if my chronology of this story is correct, that was where and when I told the boys of my form what had happened in the holidays.
[3]

29th April 1963,

according to

The Georgian of the Grammar School Fleetwood,

No.63, Autumn Term 1963, page 3.
 8. I think it was Green who asked, "Was he a 'homo'?" This was the first time that I had heard the word. Clearly, the tone was one of disapproval and disdain; and I wondered what a "homo" could be. If it was someone who held his dick in his hand, then did that make me a "homo"?—for that is what I often privately did.

 9. Perhaps Gob was absent when this conversation occurred, because he would have gone red, stopped his ears, and said,

"S

HURRUP

!"

if he had been within earshot.