Early Days



Air rifles


 1. At home we had two .177" calibre air rifles, one that was fairly lightweight, made by

Diana,

and one that was heavier, made by another manufacturer. The

Diana

had a dark wooden stock, but the grip was made of metal; I think it was our Steve's, a Christmas present perhaps. The other was heavier and more powerful; it had a paler wooden stock, which included a well-shaped pistol-grip. Both were single-shot, cocked using a break-barrel. (Trevor had a

Diana

air pistol, I remember, but it wasn't very powerful or accurate.)
 If we were indoors, shooting at targets, we would use darts with bright-coloured flights, but outdoors we would use lead pellets. We might shoot at tin cans, which gave rise to the expression which we considered slightly risqué: "Shoot at the

far tin!";

we thought it sounded like "farting".
 We had a small goldfish-pond in the back garden, and would sail little plastic boats on it. From time to time we might decide to shoot at one of them and sink it. If someone hit the boat below the water-line too early, rather than first shooting off some of the superstructure, the game would be over quickly and that wouldn't be much fun.
 I seem to remember a time when, in the absence of parental supervision, we jumped up and down and shouted at the cows in the field beyond our back garden. The cows came over to investigate the kerfuffle—and we shot them! Apart from one of them perhaps leaping into the air, and all of them running off, nothing ensued: they had thick hides.
 And there was the incident, which I related in the story Trevor Davies, when Alan Barnes shot our Steve in the bum.



Ca.

Christmas 1967. Marjorie Hill (sister of Stanley Smith) shoots with the

Diana.






Ca.

Christmas 1967. Nelson Smith (brother of Stanley Smith) shoots with the other air rifle.
Not the same occasion: Marjorie Hill is wearing a different frock.
Longbows


 2. One day my Dad came home with two or three longbows and some brass-tipped arrows. Perhaps there was an archery club where he worked at the Ministry of Pensions and National Insurance that was discarding them. He made a target out of rolled-up corrugated cardboard or some such material, and we would shoot at it in our long back garden.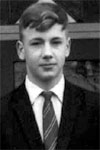 Given the above-mentioned air-gun shooting incident, I might not be considered the most reliable candidate for being trusted by parents to take potentially lethal weapons out of the home; but it did happen, one day, that David Rotheram ("Gob") and I took a couple of bows and some arrows, and were shooting with them on King George's Playing Fields.
 Then the play stopped, and we were wandering around the field separately. Suddenly—

bang!

—I felt a sharp blow and fierce pain on the nose and my eyes erupted with tears, and I realised that Gob had shot an arrow and it had hit me. Fortunately, some of the arrows had lost their brass tips, and this was one of them. It gives me the willies to think how bad the injury could have been if the arrow had struck a couple of inches off where it did.